&nbsp
Get the Best Coaching for

IIT JEE Advanced JEE Mains NEET KVPY !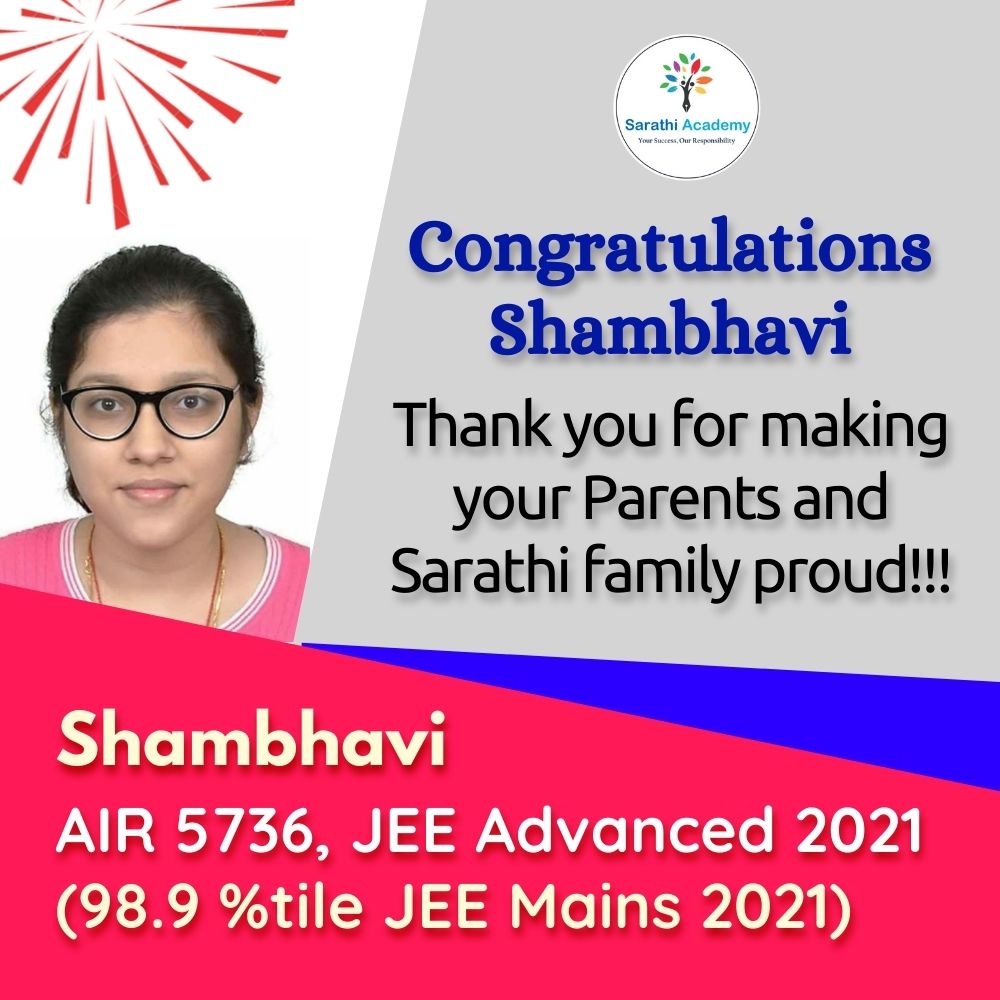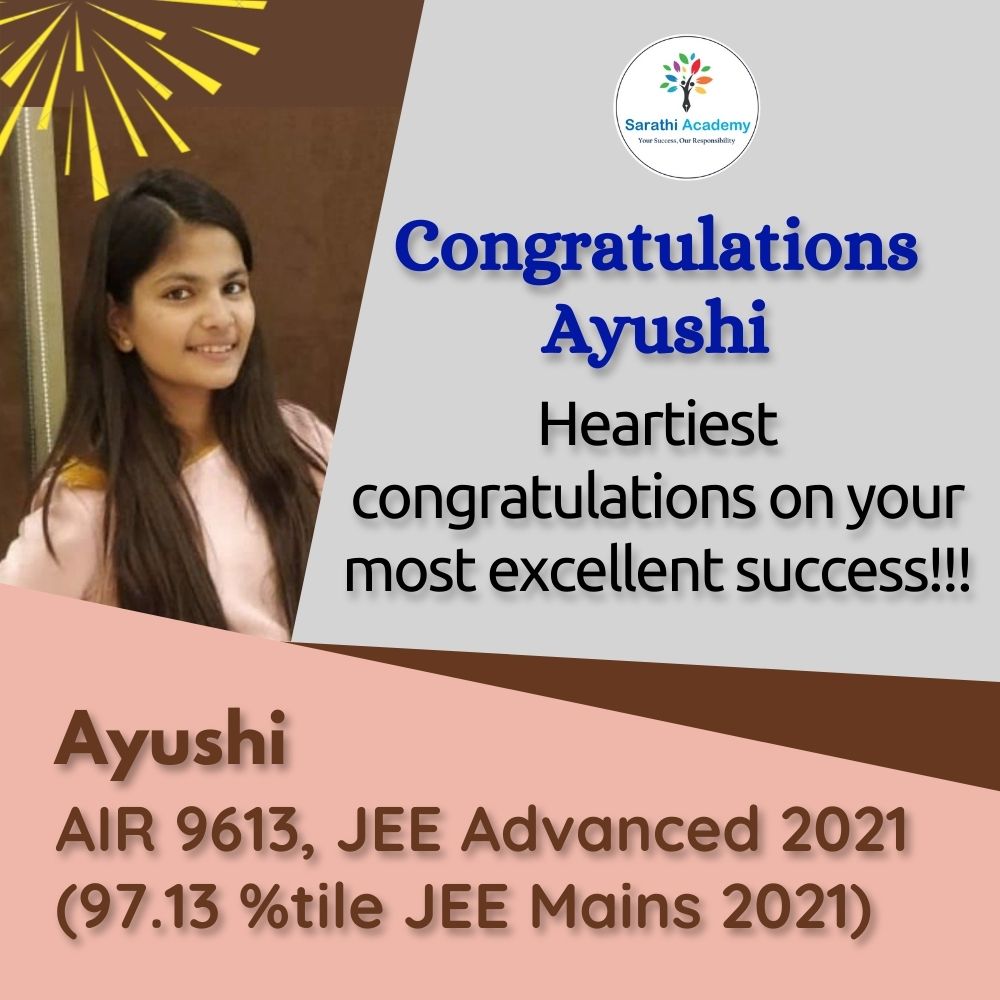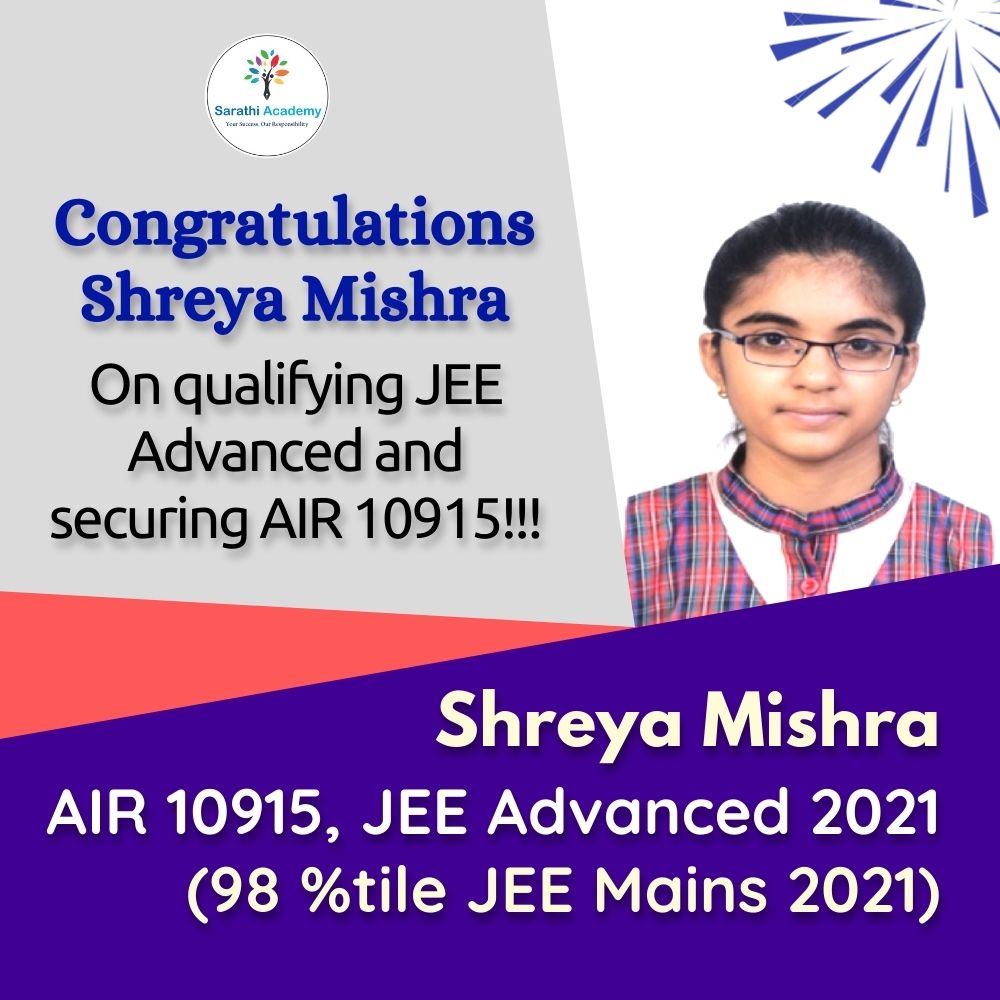 Our Outstanding Results...
JEE Advanced 2021
Shambhavi AIR 5736
Ayushi Agrawal AIR 9613
Shreya Mishra AIR 10915
JEE Mains 2021
Shambhavi 99 %tile
Shreya Mishra 98 %tile
Ayushi Agrawal 97.13 %tile
Congratulations to all the Students !
Why Sarathi is BEST
100% faculty members from IIT
A teacher should be one who knows the way, goes the way and then, shows theay. Here at Sarathiw we have the best of the faculty members from across many departments, having expertise over physics, chemistry, maths, faculties who are there right from the premier institutes who can not only teach but share their experiences of preparation for IITs.
Creative ways ofteaching using ppts, videos,animations etc.
Ever wondered why the students are addicted to the smart phones? Because it really captivates the mind and intelligence. Here at Sarathi we use state of the art techniques so that the minds of the students are engaged in grasping the subject matter with full attention. That's why we call teaching at Sarathi is so much fun and students really love the subject matter.
Super Smart Study Slots
Since many ages and centuries, Svadhyaya has been one of the main principles in the making of a first class student. For sure the role of teachers cannot be undermined but Self-study by student is equally important if not less. So here at Sarathi we have smart study slots where the students must solve the Practice papers in order to imibe the subject matter deeply.
Scholastic CompleteStudy Material
Do you know why many students who are sincere, studious and hard-working as well get poor rank in competitive exams like IITJEE? A very significant folly that contributes to such unfortunate predicament is CHOOSING under-quality study materials, irrelelvant reference books or books with a lot of similar questions. That is why here at Sarathi we have designed a complete and thorough coursework that emcompasses relevant quality content and a variety of problems as well. Familiarity with the test patterns and OMR scripts gives an edge over others.
Balancing Boards and IIT JEE Preparations
IITJEE is board plus something extra. Our curriculum is designed in such away that it covers the spectrum of entire board syllabus and then we add the rainbow of IITJEE preparation so that students can come up with flying colors in both exams. Here at sarathi we have a balanced and wholesome approach towards this that caters to the needs of Board exam preparation as well as competitive exams preparation
Review of Students Performance
Anything that has to be managed requires to be measured. When we realize our strengths and weaknesses, only then we have the opportunity to capitalize on them effectively. That is why at Sarathi we have regular review of student's performance.
Regular meetings with highly qualified IAS officers, Doctors, Researchers and IITians
IITJEE preparation is not a sprint, it's a marathon that requires years of hardwork and consistent inspiration. That's why here at Sarathi we organize regular meetings with esteemed personalities who have themselves achieved peaks of success in their lives. Interacting with them, listening to their success stories inspires the student to achieve similar crescendo in their lives as well.
Get-together festival celebrations
Imagine writing with a pencil for 100 long hours at a stretch. It's not just possible because the pencil requires sharpening at regular intervals. Sharpening a pencil is not a waste of time. Have you heard of theincreasing Suicide rates amongst the Indian teenagers specially in cities like Kota where the environment is fraught with cut-throat competition? That is why here at Sarathi we have regular festival celebrations that not only act as great stress busters but also cater to the emotional and social needs of a student.
---
Sarathi - IIT JEE, NEET Coaching
Sarathi has been started as a forum for nurturing young minds aiming to develop the potential of each student in a stimulating environment of academic excellence and mutual respect. Upon receiving recognition and support from students and parents, it grew up into an academy where XI and XII students are taught syllabus of JEE and NEET along with board preparation and IX and X students are taught board syllabus in such a way that it acts as a strong foundation for the competition they are going to face in the future. Faculty members here are all students from IIT, so there is not only an experience of teaching but also the experience of struggle for clearing the competitive examinations.
Here at Sarathi, emphasis is given strengthening the fundamentals and clearing the doubts. We aim to equip our students with monthly tests, fortnightly doubt classes, weekly assessment so that they can march daily towards success. We, at Sarathi, give special attention to each student, whether it is academic mentoring or providing emotional support to the students. We believe that any student can succeed in some way provided he is given the right guidance at the right time. We believe that students and parents also help us in making our students succeed and bring good reputation for us.
Our Vision - Mission
Sarathi Academy is a brainchild of the alumnus of the glorious IIT-KGP. We are a team of IITians who are working for a common goal of catalyzing the ambitious young minds through holistic nurturing and competitive training. Our sincere efforts are well appreciated and supported by parents, students and various educational institutions in Kharagpur where our main center is flourishing.
To make a student, succeed in the ever-increasing competitive era is the dire need of today which makes you enrol in the golden board of students joining prestigious institutes like IITs, NIT's, and Medical and WBJEE colleges. With a sacred purpose towards this, we, a dedicated team of IITians, are aimed towards the betterment of your results to ensure a sparkling career ahead. Thus, the brainchild of our intense meditation for the goal of meritorious career through wholistic nurturing and competitive training is Sarathi Academy where we help you reach your destination.
Office Hours
Monday - Friday - 9am to 7pm
Sunday - 10am to 5pm